yPIANO TUNING IN BELLINGHAM
Our piano tuners in Bellingham provide outstanding piano tuning services. They work hard to address concerns such as adjusting the string tension or replacing damaged components efficiently to bring the instrument back in tune. Our cost depends on the extent of the servicing we must perform.
COST of Piano Tuners in Bellingham: $175-$300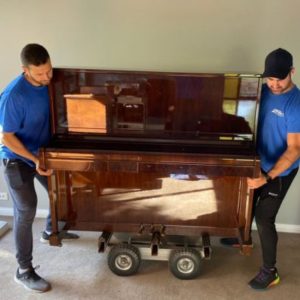 PIANO MOVING IN BELLINGHAM
We are Bellingham's best option whenever moving grand or upright pianos is challenging. You can trust our company when you need assistance moving in-house, local, regional, or out-of-state moves. You can fill out our forms to estimate the cost of the move.
COST: Piano moves in the Bellingham area begin at $275 for upright pianos and $350 for grand pianos. We also offer in-home moves starting at $125 for upright pianos and $175 for grand pianos.
PIANO REPAIRS IN BELLINGHAM
Our company caters to various piano repairs in Bellingham and other nearby areas. Our technicians are meticulous enough to attend to sticky keys, out-of-tune soundboards, and other problematic mechanisms. Call us if you need timely and pocket-friendly repairs to different sizes, models, and ages of pianos.
COST: $95/hour
PIANO RESTORATIONS IN BELLINGHAM
We are the company you can trust to preserve the integrity and aesthetics of your cherished grand and upright pianos. With our proven expertise and detail-oriented technicians, we can attend to various problems surrounding the pedals, strings, and other components. We can also customize the look of your instruments to make them stand out.
COST: Prices are determined on a case-by-case basis.
PIANO STORAGE IN BELLINGHAM
We are Bellingham's top choice whenever you need to store your piano securely. Our facility is the best in the industry with our humidity- and temperature-controlled capabilities. Our technicians can address various requests to store upright properly and grand pianos without damaging or risking them warping. With our reasonable fees, you're bound to enjoy the best deals.
COST: $60/month for upright pianos and $75/month for grand pianos.