PIANO TUNING IN BELLEVUE
Our piano tuners in Bellevue address out-of-tune pianos with the utmost professionalism. They are detail-oriented and can tackle various concerns efficiently. Whether you need to tune your heirloom, antique or modern pianos, we're the ones you can trust to attend to them.
COST of Piano Tuners in Bellevue: $175-$300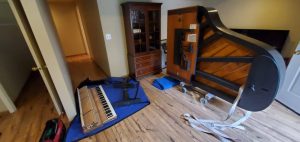 PIANO MOVING IN BELLEVUE
Our company provides exceptional piano moving services at an affordable fee. Our piano moving experts are the best in the business as they efficiently cater to pianos of different sizes, ages, and brands. Regardless if you need us to move them out-of-state, locally, or even in-house, you can be assured that our professionals will take good care of your instruments.
COST: Piano moves in the Bellevue area begin at $275 for upright pianos and $350 for grand pianos. We also offer in-home moves starting at $125 for upright pianos and $175 for grand pianos.
PIANO REPAIRS IN BELLEVUE
We are Bellevue's top option when it comes to providing piano repairs. With our proven expertise and experience, we are the company you can trust when your pianos become out-of-tune, have stuck keys, damaged hammers, busted strings, or other similar problems. We offer timely and budget-friendly deals for small to large-scale concerns.
COST: $95/hour
PIANO RESTORATIONS IN BELLEVUE
Our company is Bellevue's most trusted and affordable piano restoration service provider. Our technicians are capable and ready to address concerns surrounding the instrument's internal and external mechanisms and casing. Regardless of the age, brand, and type of your piano, we can improve the aesthetics and sound of your instrument efficiently.
COST: Prices are determined on a case-by-case basis.
PIANO STORAGE IN BELLEVUE
Piano Moving Art prides itself in catering to your short- and long-term piano storage needs. With our top-flight facility, we are Bellevue's best choice for securely keeping upright and grand pianos. Our personnel will protect and secure your treasured instruments until you can showcase them at your residence.
COST: $60/month for upright pianos and $75/month for grand pianos.