A piano is an expensive piece of musical instrument. It may be an heirloom or an item you bought for yourself or your child. But there may come a time when no one in your family wants to play the piano, and you are left with a piece of equipment that occupies space in your home and collects dust. Common question is how to donate or recycle a piano.
While modern pianos are mass-produced, most of their parts are handcrafted. Artisans put them together, so it is unthinkable just to let such a beautiful piece of musical instrument be hauled and thrown into the landfill.
When you do not have anyone in the family willing to take the piano off your hands, you can either donate or recycle it. To move a piano might be costly.
Things to consider for piano recycling or donation
The first thing you need to do is choose the option that will work best for you. Do you recycle or donate your piano? You'll have to meet specific criteria when giving your piano.Piano donation
Several organizations accept a piano donation. It may take time and back and forth communication between you and the recipient, so if you are in a hurry, this option is not for you.

Whether you donate or recycle your piano, check the following items:
All piano keys should work (as the recipient may not have the funds for its repair)
It should generally be in tune (do let the recipient know if the piano needs tuning)
It should be in good condition. Minor chips and scratches are all right, but no significant damage such as chipped keys, cracked key cover, or a broken leg.
These places accept piano donations:
– Recreation centers
– Service clubs
– Social groups
– After-school programs
– Senior centers
– Churches
– Schools
You might also want to consider going through third-party projects and organizations, such as the Salvation Army, Goodwill, PianosForEducation.org, the Beethoven Foundation, and Piano Finders. They can match the piano with nonprofits. Likewise, they will pick up the piano from your home.
One thing to keep in mind is donating a piano is not tax-deductible.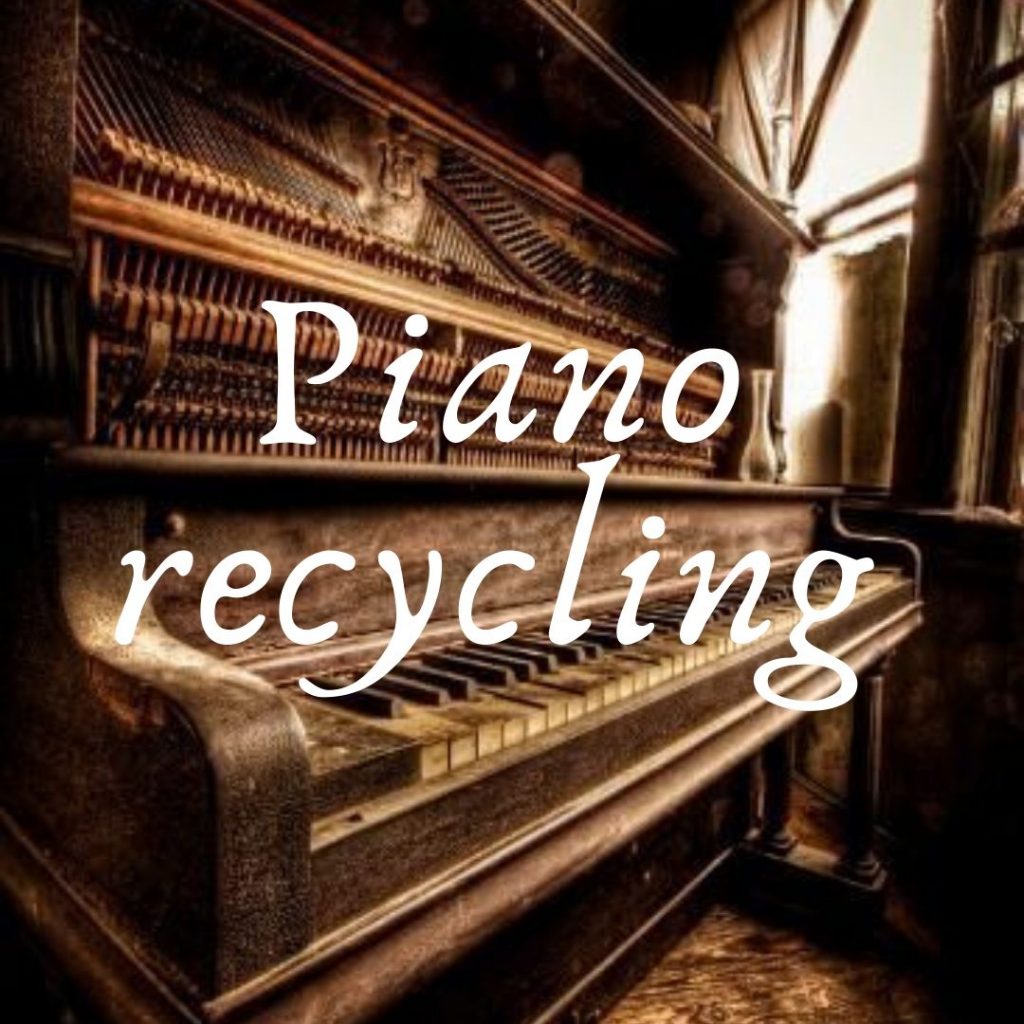 Piano recycling
If your piano does not meet the criteria for a donation, you can recycle it. You can recover the wood, cast iron, steel wire, and the piano's screws. The challenge is to find a piano recycler. If you find one, you may have to transport the piano to the recycler's location, so it is vital to find a local transfer station.
After removing some of the recyclable parts, a carpenter or an artisan can convert the body of your piano into a new storage or display cabinet, or an irregularly shaped coffee table. You can use it as an aquarium stand. If you have a covered part in your garden, you can use the piano body to hold hanging and trailing plants.
If you want to donate your piano, ensure that your equipment meets the criteria for donation. Most recipients are willing to pick up the piano from your home. However, if you are not honest about your piano condition, the recipient may charge you for transportation and truck rental. If you decide to recycle, see to it that the piano does not end in the landfill.