If you're moving, whether to another state nearby or across the country, you can rely on a moving company to haul off your appliances and other items safely. If you have a piano, you need a professional moving company specializing in moving pianos to ensure that your piano is safe and secure while in transit. Check out the Piano movers in Seattle so you can get expert help.
Why use a professional piano moving company?
A piano is an expensive piece of musical instrument and you have to take care of it especially when you're transferring residences. A professional piano mover has the skills and training on how to prepare the piano for the move, how to get it out of the house safely, and pack it securely to prevent damage to it while on the road.
A moving company that specializes in moving pianos knows how to pad the instrument and enclose it in a special crate. If you have already had another moving company to take care of your household items and appliances, and you want the piano to go with the rest of your belongings, a piano mover may pack the piano for you and load it into the movers' truck. However, you should make arrangements for another piano moving company from your destination to offload it.
Cost of moving a piano
It's understandable that many people ask how much it will cost to move a piano. The cost of moving a piano is different from moving other items because of several factors. Overall, the cost is higher than the average cost charged by a moving service. Here's why.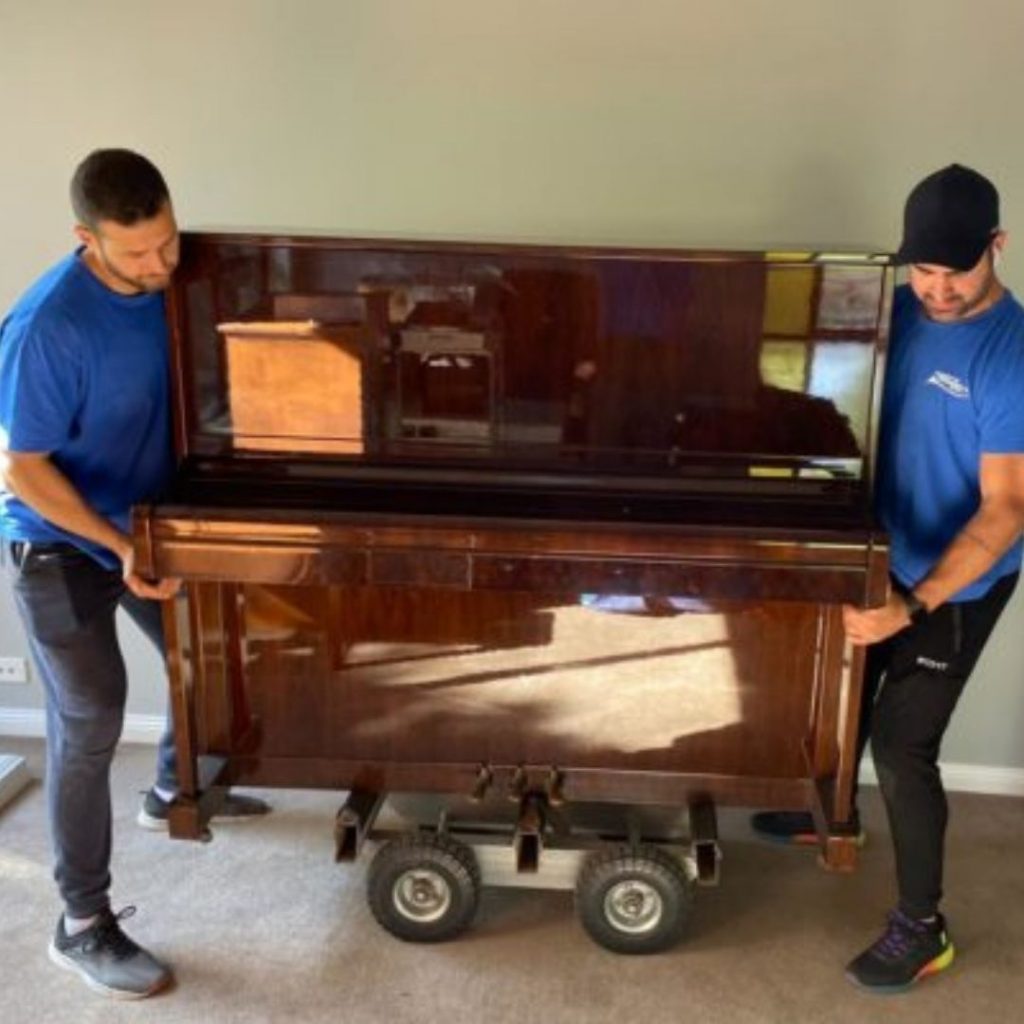 A piano is heavy. The parts of a piano include cast iron plates, metal wires, dense wood, and other heavy materials, contributing to the overall weight of the piano. Grand pianos can weigh around 500 pounds to 1,400 pounds. An upright piano is about 300 to 800 pounds, which is almost the same weight as a baby grand. Moving an item of such weight needs trained workers and special equipment.
It's not designed for moving. Pianos are built to stay in a designated place. They are heavy and not meant to be moved often. They are also delicate musical instruments and moving them could cause external and internal damage. At the very least, moving will cause the piano to lose its tuning. You may have some other larger appliances in the house that are also heavy, such as your dishwasher, washer and dryer, and refrigerator. But despite their size and weight two persons can move them. If there is a hand truck, one person can do the job easily.
When moving a piano you need at least four people, with three of them doing the lifting and the other one guiding them. This is the minimum setup if the piano is on the first floor. If the piano is located on another floor, the number of people needed to move it increases. Also, it may require a hoist or crane to lower the piano from a window.
It needs special care. You do not wrap a piano with blankets to protect its sides. The piano needs special packing materials as well as a custom-made crate to secure the piano during transport. The packing materials and the crate will cushion the item from bumps and vibration.
Remember that moving a piano requires people with the right skills and training on piano moving. When you need a piano moving company, ensure that they will provide insurance for the piano and insurance for their movers.
#2021pianomovingcost, #a-1 pianomovers, #a1 piano movers, #bestchoicepianomove, #bestpianomoversnearme, #grandpianomovingcost, #instantpianomovingquote, #MartinsonPianoMoving, #MartinsonPianoMovingStorage, #moveapianocost, #pianomoversnearme, #pianomovingandtuning, #pianomovingcompany, #pianomovingcompanynearme, #pianomovingcostnearme, #pianomovingquote, #pianomovingrates, #propianomove, #propianomovers, #professionalpianomovers, #professionalpianomoversnearme